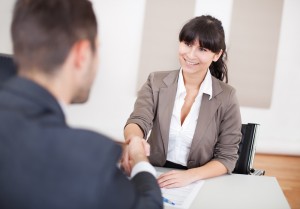 Opus Meeting Rooms are a perfect solution for recruiters by offering the privacy needed to conduct interviews in a professional environment and with no distractions. Our meeting room facilities are also located in prestigious business locations close to fine dining, first class hotel accommodations and major transportation hubs giving all parties easy access and a great environment that will only reflect in a successful outcome.
Recruiters work with companies and individuals throughout the entire country, some recruiting firms are worldwide. In many cases, a recruiter will travel to conduct interviews and make corporate introductory presentations. When a recruiter is traveling on behalf of a company, it is necessary for the recruiter to have a professional environment  to go through the hiring process and conduct the interviews appropriately.  In this and many other cases a meeting room from Opus can fulfill all the needs and requirements you may have becoming a valuable asset to any recruiting company.
Technology Recruiters need in a meeting room
All Opus Meeting Rooms locations provide state of the art technology that recruiters need to complete the administrative portion of the hiring process with fully equipped business centers. Video conferencing is also another great tool available, recruiters can introduce candidates and hold video conferences with the hiring manager remotely. Through the video conferencing feature the recruiter can also facilitate any training of the new employees remotely from the corporate headquarters or any other location.
Recruiters must present themselves as professionals, they must conduct their hiring processes in a professional environment that represents them and the companies they are hiring for. Opus Meeting Rooms have played an essential role in creating a professional environment that will allow recruiters and other professionals to conduct business, this is why many businesses and entrepreneurs prefer and return to utilize our meeting rooms.