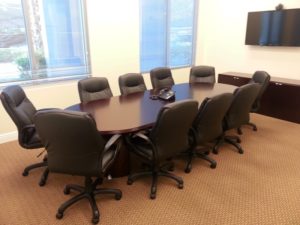 There are many benefits to booking an Opus Meeting Room as well as a variety of reasons. Perhaps your company doesn't have room to accommodate employees and business partners, maybe the plan for a presentation is specifically opened for clients and investors and of course you would want to impress them. In any of these or other scenarios, having  a Meeting Room situated in a prestigious location with all the amenities needed will make it easier for more people to attend and at the same time you will keep the professional image your business requires.
Even if your company has its own meeting rooms or conference rooms, an offsite professional meeting room can do wonders. It is a better choice because these rooms are well equipped with latest technology allowing you to have Remote Video Conferencing if needed and because the meeting room is "off site" the focus of the meeting is priority, no more interoffice distractions.
Offsite Meeting Rooms promote productivity
External meeting rooms are ideal for offsite strategy meetings and training events, offering a more creative and productive atmosphere away from the familiarities of the normal office environment. A business meeting designed to take employees out of their day to day work surroundings can help improve better focus on strategies and new products, it also has been proven to be more effective resulting and increasing the company's competitive abilities. Companies who take advantage of new technologies understand the power and effectiveness of Video conferencing although their office may not be equipped with this latest technology, they understand how effective it is and the many benefits it offers.
Opus Meeting Room will benefit any business or professional that holds regular sales meetings, launch new products, private client meetings and conduct interviews (Great for out of state candidates using video conferencing) to name a few, but the bottom line is that you will have the ability to meet with customers or colleagues all around the world with professionalism and with an outstanding back-office support.
There are many professions and companies that benefit from reserving an Opus Meeting Room when an offsite meeting or conference is necessary. Here are some examples of professions, situations and businesses that take advantage of Opus meeting Rooms.
For any of these professionals, situation or business, reserving a meeting room is the best option. Actually, it's the only viable option.