A meeting room has many applications. As a sales Representative for a leading aftermarket auto parts manufacture, I find myself spending 2 to 3 days more in a town than I need to. I say this because as I make my rounds to visit my existing clients and stop ins at prospective new customers, sometimes they are not available, too busy to see me right away or out of the office altogether. Needless to say, I still have to get the face to face time I need, my only option at this point is to revisit until I get the chance to present. This as I mentioned can cause me to spend extra time in a town I could be in and out of.
We all know how many auto repair and auto parts stores there are in towns across our great united states. I have found as I'm sure any sales person has experienced, a cold call is an inconvenience for our clients, but nonetheless, we need to make that visit.
Meeting Rooms, a captive audience
After doing some research and a lot of thinking, my thought process lead me to the conclusion, if I could contact my clients and set up a presentation point where I could have a captive audience, I could present them with our newest products all at the same time, give them samples and take their orders. I say captive audience because we all know when we meet in the office of our customers, there are nothing but interruptions, focus is lost and the meetings and presentations are cut short because of this, we as salesmen now feel we have to rush our presentations and of course resulting in leaving the client with nothing more than a descriptive pamphlet. My solution, a meeting room.
I researched on the internet and found many options for meeting room rentals. I had choices of how many hours I needed to reserve the room, what options I may need as far as technical services were available and even the size of the room I needed based on how many guest would be attending so I could have the proper seating arrangements. Once I had all the information compiled, I contacted my existing clients as well as the potential clients I have been trying to introduce our product line to.
Meeting Rooms create the professional atmosphere
My plan, invite them all to a presentation lunch. I contacted each one of them by phone and confirmed via email. All in all there were 33 guests invited, 26 of them accepted the invitation, I scheduled it for late morning into the early afternoon 4 hours in all. Thanks to the meeting room, this idea was a great success. All the attendees were impressed with the surroundings provided by the location of the meeting room as well as the atmosphere created by the quality and professional image presented in the meeting room location. I presented my new products to all attendees we had a great lunch catered in and had the opportunity to present my total product line to the potential clients I invited.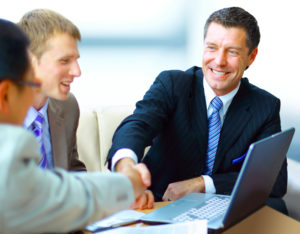 As a result of reserving a meeting room for a sales presentation, I took new product orders from 14 of my existing clients and first orders from 6 of the clients I had been trying to convert into customers. The best part and the point I was trying to make, I only spent 2 ½ days in a town I normally would spend 5 days in. I saved on 2 nights hotel stay and 2 days car rental, and signed 6 new clients. The investment in reserving the meeting room was  unbelievably inexpensive.